Power outages: nobody likes them, nobody wants them. Unfortunately, they can happen any time--day or night. And while there's not any way to predict when they will occur, there are things you can do to prepare for and weather (no pun intended) a power outage.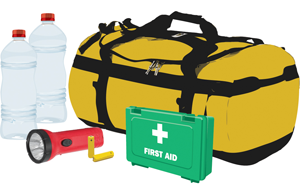 The Boy Scout motto "always be prepared" is the mindset you need when preparing for an outage. You don't want to wait until it's the middle of the night and stumble around in the dark to find a flashlight and, after a bruised knee, discover the batteries are dead. You have to prepare an emergency kit and check it regularly to make sure everything you have is ready to go in the event of an outage.
Flashlights, extra batteries and matches. Keep them where you can find them in the dark.

Battery-powered radio.

Battery-powered or wind-up clock.

Canned or dried non-perishable foods, and a manual can opener.

A safe alternate source of heat and extra fuel (wood, kerosene).

Extra blankets and warm clothes.

One gallon of bottled drinking water per person per day.

A gallon of liquid chlorine bleach for sanitizing utensils and dishes.

A regular (not cordless) phone.

Never use open combustion units (gas or charcoal barbecues, hibachis) inside the home.

If traffic lights go out, treat all intersections as 4-way stops. It's required by law for safety.

Minimize driving to conserve fuel. You cannot refill the tank during a power outage.

Stay away from downed power lines and sagging trees with broken limbs.

Don't get wet if you have no way to get dry.