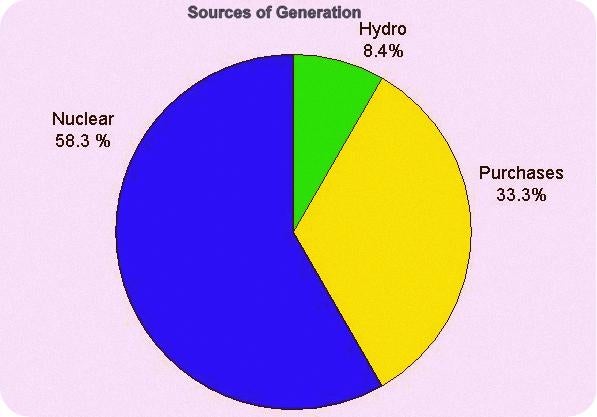 Since 1966, cooperatives have purchased hydropower from the Niagara and St. Lawrence power projects located in upstate New York. This generation accounts for approximately 6% of cooperative energy needs annually.
Cooperatives are 10% owners of both units of the Susquehanna Steam Electric Station, a nuclear plant located in Berwick, PA, that began producing power in 1981. These units provide nearly 60% of our member's needs.
Holding that the cheapest kilowatt-hour, and cleanest in terms of environmental impact, is the one never generated, Pennsylvania electric cooperatives launched the Coordinated Load Management System (CLMS) in December of 1986. CLMS works by controlling electric water heaters and other special equipment (in the homes of nearly 47,000 volunteer cooperative consumers) during times of peak electricity consumption.
As a result, CLMS improves system efficiency, cuts costly demand charges cooperatives must pay for purchased power, and reduces the need for new generating capacity. The load control network currently boasts demand-side reduction capabilities of 50 megawatts — roughly 8% of the cooperatives' peak load.
In June 1988, cooperatives placed the Raystown Hydroelectric Project into commercial operation. Located at the base of Raystown Dam in Huntingdon County, the 21 megawatt facility supplies close to 4% of the energy delivered by electric cooperatives, enough to power about 8,500 average rural homes.
The remaining needs are purchased on the wholesale market through various contracts. This power comes from coal and natural gas fired units.
Cooperatives continue to be committed to provide the most reliable power at the lowest rate possible to its members.
Here are some links you may like to check out!