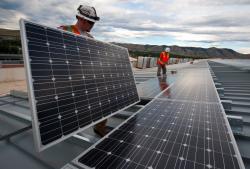 Interested in installing solar panels? Sullivan County Rural Electric offers a net metering program that allows you to connect your solar system to the grid and bank your generation for future use. We do not install panels, but we can help you find a developer.
The program requires prior approval of your system (a one line diagram and specs), a completed agreement, and $100 application fee. After an electrical inspection, the Cooperative will change your metering to record both usage and generation. Systems need to be sized at a maximum of annual usage.
Contact us for more information if you are interested installing a roof top or ground mounted solar system. Sullivan County REC does not offer any rebates at this time.